Legend

The Legend; a high performance sea kayak designed to take you anywhere you want to go.

The Legend handles beautifully in wild conditions and surfs with precision in following seas. The hull provides a comfortable degree of initial stability, while the chines offer substantial secondary stability to confidently edge for quick turning, and directional control.

The clipper bow and secondary levels of buoyancy in the hull make the Legend a dry boat to paddle, while the clean deck layout, with everything from hatches to safety line anchor points and compass being recessed, minimizes spray.

The cockpit is roomy inside for leg and foot comfort, with a comfortable seat. The Legend has expedition carrying capacity, and is easy to load through the two large oval hatches, with a round offset "day-hatch" to one side behind the paddler accessing a separate sealed compartment.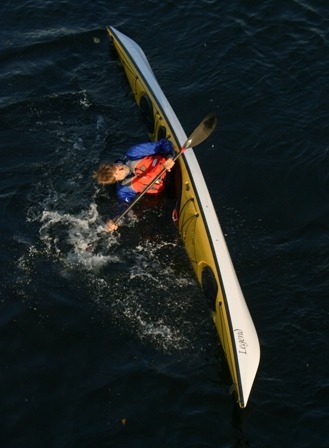 With a shallow-arch hull and hard chines the Legend has good secondary (edged) stability and offers easy "leaned" stability (position shown)
(Joel Rogers image)

Dimensions
length 17 feet 10 inches
beam 21 inches
depth 12.5 inches
cockpit 31 inches x 15 inches

Volumes (approx) front hatch; 76 liters
day-hatch 36 liters, rear hatch 76 liters
Total cargo capacity approx 188 liters

Weight (fiberglass) 57 pounds (lighter in glass/Kevlar)
Legend comes standard with

3 Sealed fiberglass bulkheads
2 oval hatches and one round day-hatch
21 recessed deck fitting/anchor points
Retractable skeg
Compass recess (compass optional)
Adjustable foot braces
Fiberglass seams inside and outside
Padded thigh braces
Deck lines, bungees and end grabs
Padded back support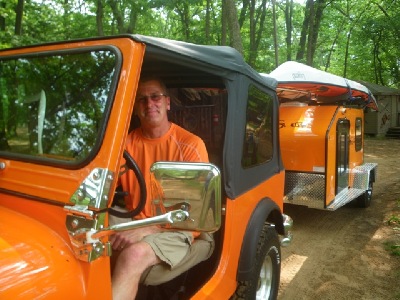 Color is important!

Choose from 19 different colors, for your hull, deck, seam and cockpit coaming.Visit Seaward for color options.

(Kristin Nelson, Labrador)

Optional extras
Fitted Brunton/Silva 70P compass
Fitted "Guzzler" foot operated pump
Quick-release self-rescue straps (for paddle-float type self-rescue)
Custom-positioned bulkhead (for foot-brace)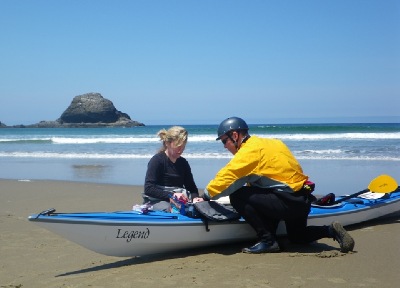 You'll find the Legend generous for foot room, accommodating long legs comfortably. The "comfort seat" that comes as standard is higher at the front than some prefer for "performance" paddling; in which case fit a shorter and flatter foam seat.

You'll notice the skeg control unit and the day hatch are positioned to the left. This is for rougher water control. Right-handed paddlers typically favor bracing for balance holding the paddle in the right hand, which frees the left hand for skeg or hatch, rather than bracing using the left hand.

Questions? Feel free to contact us, or check the Seaward Kayaks site for more information.

Legend